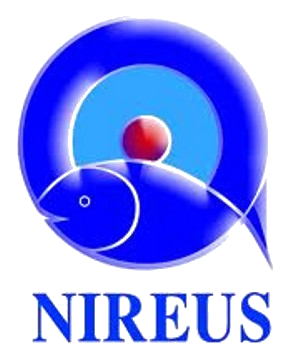 Nireus SA is a fully integrated aquaculture company starting with the juvenile production, fish rearing, production of fish feed and aquaculture equipment, both for own use and also for trading. Since 1988, Nireus is continually growing with production facilities in Greece, and Spain, while its products can be found in more than 40 countries around the world. Nireus facilities include hatcheries, prefattening units, ongrowing farms, packaging facilities, 1 R&D center, 2 fish feed factories, a fish processing unit and 1 aquaculture equipment production unit. Nireus R&D department consists of researchers with great experience in the Mediterranean finfish production. More specific the R&D department is manned with 2 PhD holding researchers , 1 MPhil holding researcher specialized in fisheries and aquaculture economics, 1 MSc holding researcher specialized in aquaculture practices, Agriculturists and Ichthyologists. Main focus of the Nireus R&D department is the broodstock selection program (breeding program) for both of gilthead sea bream and European sea bass since 2001 and 2002 respectively. The aim of this program is to develop faster growing fish with greater robustness in production handling, leading to a superior final product for human consumption. The breeding program is family based with the production up to 100 families for each species in every production. The R&D facilities (EL04BIOexp01) include an experimental rearing system with 100 tanks of 140 L, an experimental rearing system with 18 tanks of 120 L specialized for nutritional studies, a laboratory for microbiological assays, a laboratory for analytical assays such as proximate analysis and a general use laboratory. Additionally, for the needs of the breeding program there are dedicated, with Biosecurity control, hatchery facilities (100 larval tanks, broodstock tanks, micro algae and live food production). Nireus SA has also successfully collaborated with ATEITh, UoC and HCMR in Greek national projects that tried to implement marker-assisted selection for seabass and seabream (EPAL and PAVET projects, respectively) and ended in 2015.
Scientists involved:
Leonidas Papaharisis (MSc)  is an Ichthyologist with advanced studies in Quality Management and has an MPhil in Fisheries Economics from the Business School of University of Portsmouth (UK). He has been working in the aquaculture industry since 1996, initially as a business consultant for the preparation and coordination of research programs in fisheries and aquaculture sector. Since 2003 he has been working in NIREUS SA as QA/QC Manager, and since 2009 he took over also the Research & Development department of the company. He is responsible as head of the R & D team of the company for the design, approval, monitoring and evaluation of all the R & D projects and initiatives like breeding selection program, nutritional testing and development of new fish feed, new veterinary products for fish, new aquatic organisms presenting an interest for the aquaculture industry and new products / innovative food. He has participated in many research projects at national and international level, being also a coordinator in some of them. He is a member of Greek Ichthyologists (T.E.) Federation since 1995 and a member of Greek Mariculture Federation Technical Committee since 2005. He speaks Greek, English and Spanish. Mr.Papaharisis declares that he is aware that duplication of funding is not allowed for the same (whole or partial) research project and that the work proposed is not part of a funded project. The present transnational research project was conceived and developed in the context of the COFASP call objectives by the project consortium.
Dr Arkadios Dimitroglou graduated from the department of Aquaculture and Fisheries of the T.E.I. of Epirus in Greece. He continued his studies with a MRes in Applied Fish Biology and a PhD in Fish Nutrition both awarded by the Biological School at the University of Plymouth, U.K. He is also holding a FELASA certificate for A, B, C, D functions and task specific modules 20, 21, 22, 25 on laboratory animals (mice, rats and zebrafish). He is a member of Greek Ichthyologists Society (PA.S.T.I.) as well as of World Aquaculture Society (WAS). His research interests are focused on fish nutrition, reproduction and physiology with more than 15 published studies on international journals (peer review) as well as more than 10 participations on scientific conferences. He has participated in many research National and European funding research projects. Since 2010, is working at Nireus Aquaculture SA Research and Development Department as a researcher. Previous working experience includes: research assistant at the department of Aquaculture of H.C.M.R. in Greece as well as research demonstrator at the University of Plymouth.