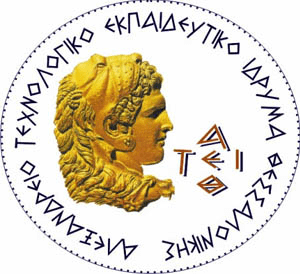 The ATEITh will participate with the Laboratory of Agrobiotechnology and Inspection of Agricultural Products. The Laboratory is involved in the teaching and the development of technologies in a variety of areas in agricultural production and aquaculture. Studies carried out in the laboratory are concentrating in the development and the applications of new biotechnologies in the agricultural production and aquaculture systems. Laboratory's staff has a broad knowhow in the fields of Genetics and Animal Breeding. The research activities of the Laboratory on the area of Aquaculture is concentrated in i) Genetic Linkage Map development, ii) QTL detection, iii) Marker Assisted Selection and Genomic Selection, and vi) design of breeding programs.
The Laboratory has a very long collaboration with IMBBC of HCMR in the development of genetic tools for animal breeding programs as well as the design and application of selection programs for Aquaculture. ATEITh previous collaborative work have lead to the construction of genetic linkage maps and QTL detection for various aquaculture species (i.e. European seabass, gilthead seabream, Common Pandora).
The head of the Laboratory of Agrobiotechnology and Inspection of Agricultural Products has participated in first two genomic tool development project for Mediterranean aquaculture species (FP5, "Tools for the genetic improvement of seabass. Construction and preliminary application of a medium density linkage and synteny map" (BASSMAP: QLRT200001701) and "Bridging genomes. An integrated genomic approach toward genetic improvement of aquacultured fish species" (BRIDGEMAP: QLRT200001797). ATEITh has also successfully collaborated with Nireus SA, UoC and HCMR in Greek national projects that tried to implement marker-assisted selection for seabass and seabream (EPAL and PAVET projects, respectively) and ended in 2015.
Scientists involved:
Dr. Dimitrios Chatziplis is a Professor and at the Head of the Laboratory of Agrobiotechnology and Inspection of Agricultural Products. He is a member of five scientific organizations, was participating in steering committee of two EU projects and was the responsible scientist for the clustering of the two projects in the pilot QTL detection part. He leads the animal genetics and breeding group, which consist one full time and one part time postdoctoral research scientist, 2 postgraduate and 4 undergraduate student. The unit has experience in development of databases, genetic parameter estimation, breeding value evaluation, design of breeding programmes, QTL detection and Marker Assisted Selection and genomic selection methods. The lab has sufficient computer facilities, software for database development (Access, SQLserver) and software for genetic analysis of large data sets (REML, VCE, PEST); moreover, they also have in house software for QTL analysis using sib pairs and we are contacting research in QTL detection methods as well as Marker Assisted Selection and Genomic Selection. Dr. Chatziplis declares that he is aware that duplication of funding is not allowed for the same (whole or partial) research project and that the work proposed is not part of a funded project. The present transnational research project was conceived and developed in the context of the COFASP call objectives by the project consortium.
Dr. Dimitrios Loukovitis is a research associate in the Laboratory of Agrobiotechnology and Inspection of Agricultural Products, in A.T.E.I.Th. He received a B.Sc degree in Agriculture (1999-2004) and an MSc and a PhD in Molecular and Quantitative Genetics from the Aristotle University of Thessaloniki (2006-2013). His research interests are focused mainly on linkage mapping, QTL mapping, Marker Assisted Selection, population genetics, use of microsatellite and SNP genetic markers and DNA sequencing. He is particularly interested in the utilization of molecular genetic markers as a tool for the implementation of efficient breeding programs in aquaculture. Dr. Loukovitis has participated (as a research associate) in EU and national funded R&D projects relevant to aquaculture and marine genetics. He has also published many peer reviewed papers and articles in conferences proceedings.
Valia Economou (MSc) is a PhD student at the Aristotle University of Thessaloniki, Department of Biology doing research on Animal Breeding and Genetics. During her current studies, she has been introduced to a variety of subjects including Genome Wide Association Study (GWAS), QTL detection, genetic mapping (linkage analysis) and estimation of breeding values (EBVs). She has a Masters degree in Research Methodology in Biomedicine, Biostatistics and Clinical Bioinformatics from the School of Health Sciences, University of Thessaly. Her bachelor degree is on Animal Science from Agricultural University of Athens. In the past,she has worked as a biometrician for 2.5 years in a Clinical research organization in Greece and as an agriculturist for half a year.